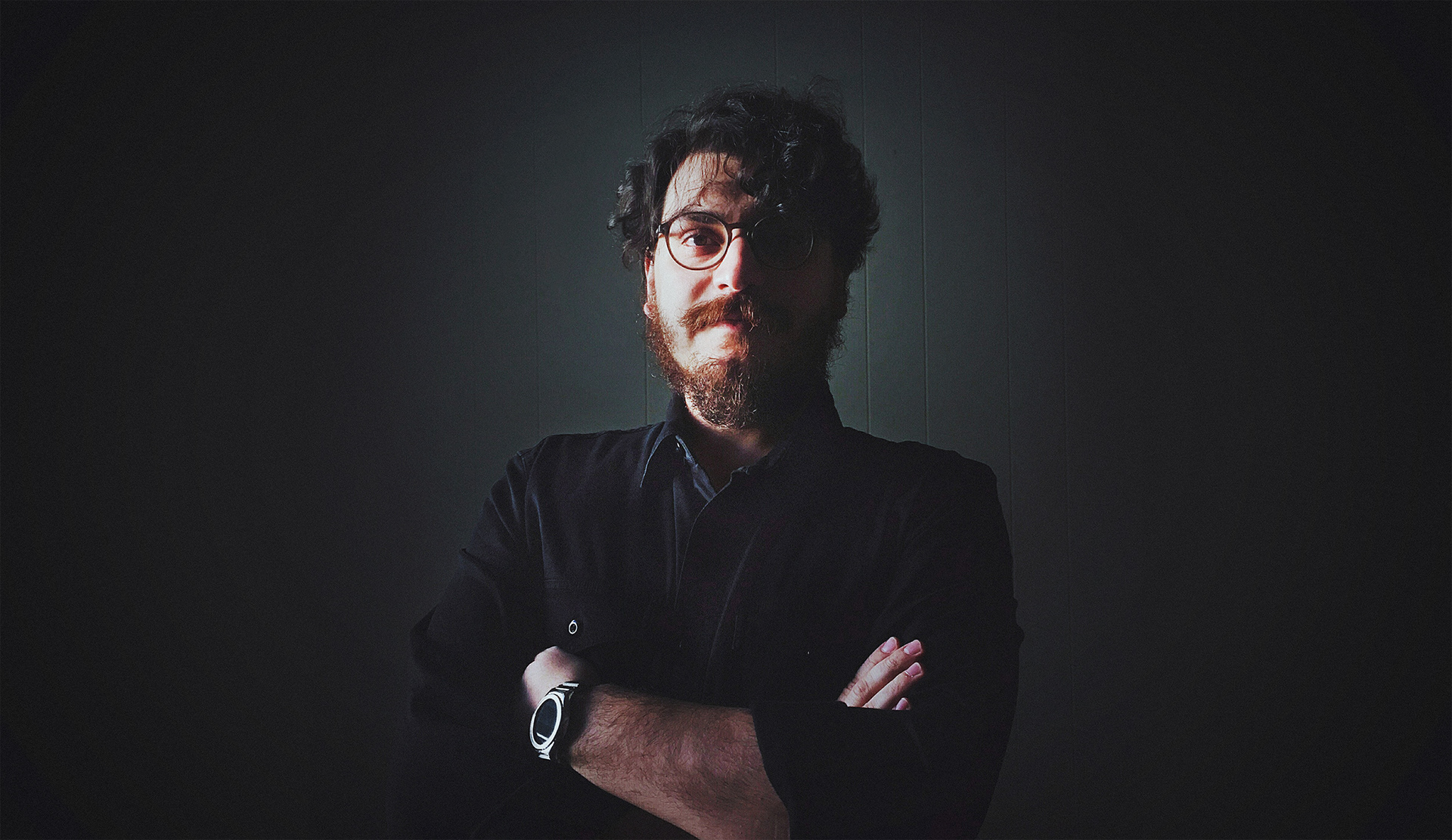 [Born in 1987, Izmir, Turkey ] Can Buyukberber is a visual artist working on immersive audiovisual experiences that's embodied both in physical and digital spaces. His practice consists of experiments with new media and large scale display technologies, such as projection mapping, virtual/augmented reality, geodesic domes, LED installations and digital fabrication methods. Driven by an interdisciplinary thinking which extends to art, design and science, Buyukberber's work often focuses on human perception, exploring new ways of non-linear narratives, geometrical order, synergetics and emergent forms. He has exhibited in international media art festivals, conferences and galleries in Europe, Canada and United States, including collaborations with Grammy-Award winning rock band Tool and Czech Philharmonic Orchestra. He is currently graduated from San Francisco Art Institute's Art and Technology MFA program as a Fulbright Grantee and completed his artist residency at Autodesk's Pier 9 AiR Program.
EDUCATION
2015 – 2017
San Francisco Art Institute
Master of Fine Arts (MFA), Art and Technology
-
2008 – 2012 / High Honors
Istanbul Bilgi University
Bachelor of Arts (BA), Visual Communication Design
-
2005 – 2008
Istanbul University
Physics
AWARDS 
2016 - 
Cadogan Scholarship / 
Murphy and Cadogan Contemporary Art Awards
2015 -

SFAI Fulbright Fellowship 
2015 -

Fulbright Scholarship
2008 -

Istanbul Bilgi University, Full Tuition Scholarship
ART RESIDENCIES
FEB 2017 – JUNE 2017
Autodesk Pier 9 Artist in Residence Program, San Francisco, USA
-
SEP 2017 – PRESENT
Luminary, Art | Tech | Music, San Francisco, USA
EXPERIENCE
click here for the full details on Linkedin
JUNE 2016 – SEPTEMBER 2016 / 
Art Director @
Obscura Digital
-
MAY 2013 – PRESENT / 
Visual Artist & Director @Can Buyukberber
-
SEP 2015 – DEC 2015 / 

Teaching Assistant @SFAI
Intro to Art and Technology course by Lasse Scherfigg PhD.
-
FEB 2011 – MAY 2013 / 
Senior Art Director @Antilop
-
SEP 2008 – JAN 2011 / 
Designer @Istanbul Bilgi University
-
SEP 2006 – JAN 2011 / 
VFX Artist & Motion Designer @Freelance
WORKSHOP & TALK
2017 - 

Talk: SF Content Creators, Adobe Research, San Francisco
2017 - 

Panel: Roles of Art & Tech. in Shaping Our Environments, SF Design Week, San Francisco


2016 -

Talk: Spotlight Discussion Series, Creativity Explored, San Francisco
2016 -

Virtual Reality Workshop, Envision Conference, Princeton University
2016 -

Talk: Gray Area Foundation for the Arts, Creative Code Meetup XXIII, San Francisco
2015 -

Projection Mapping Workshop, San Francisco Art Institute, Art and Technology Dept. 
2014 -

Talk: Behance Portfolio Review Week Istanbul / Bahcesehir University
2010 -

Introduction to Motion Graphics Design Workshop / Istanbul Bilgi University, VCD 
2009 -

Introduction to Motion Graphics Design Workshop / Istanbul Bilgi University, VCD 
2008 -

Visual Effects & Compositing Workshop / Bahcesehir University, VCD
SELECTED EXHIBITIONS & SCREENINGS
2017 -

Open Codes: Living in Digital Worlds, ZKM, Karlsruhe, Germany


2017 -

Official Selection, Geneva International Film Festival, Geneva, Switzerland


2017 -

Montreal International Mapping Festival, Never Apart, Quebec, Canada


2017 -

Field of View Series, Exploratorium, San Francisco, USA


2017 -

Moshi II, Microsoft Envision Conference, Orlando, USA
2017 -

"Exciting Possibilities" Plugin New Media, Contemporary Istanbul, Turkey


2017 -

VR Lab Selection, Ars Electronica, Linz, Austria


2017 -

Vortex 2.0 @ Morrison Planetarium, CalAcademy, San Francisco, USA


2017 -

Dolby Art Series, Dolby HQ, San Francisco, USA


2017 -

"Morphogenesis", SF Design Week, Pier 27, San Francisco, USA


2017 -

"Morphogenesis", Sonar+D 2017, Barcelona, Spain


2017 -

"Dimensions" Group Show, Mirus Gallery, San Francisco, USA
2017 -

Pier 9 AiR Final Show, Autodesk, San Francisco, USA
2017 -

SFAI MFA/MA Graduate Exhibition, The Mint, San Francisco, USA
2017 -

"Non Linear Perspectives" Gray Area Art + Technology, San Francisco, USA
2017 -

"Digital Creatures" Group Show, Art Futura Roma, Ex Dogana, Rome, Italy
2017 -

Luminary Art | Tech | Music, The Midway SF, San Francisco, USA
2016 - 
"MUSE" The Village, San Francisco, USA
2016 -

  "Nonspaces" Akbank Sanat, Istanbul, Turkey
2016 -

"Morphogenesis", Envision Conference, Princeton University, Princeton, USA
2016 -

"Morphogenesis", Mira Festival, Barcelona, Spain 10.2016
2016 -

"Morphogenesis", Signal Festival, Prague, Czech Republic [EXTENDED]
2016 -

"Morphogenesis", Kaleidoscope Showcase Vol.01, San Francisco, USA
2016 -

"Morphogenesis", AES 2016, Los Angeles Convention Center, Los Angeles USA
2016 -

"Sub·se·quence" Group Show, Diego Rivera Gallery, San Francisco, United States
2016 -

"Murphy and Cadogan Contemporary Art Awards Exhibition", SOMArts, SF, United States
2016 -

"Morphogenesis", VRLA, Los Angeles Convention Center, United States
2016 -

"Art & Virtual Reality" Group Show, Upload VR, San Francisco, United States
2016 -

"Morphogenesis", Currents New Media Festival, Santa Fe, United States
2016 -

"Morphogenesis", Mira Festival Berlin, Berlin, Germany
2016 -

"Morphogenesis", Symposium IX 2016, SAT, Montreal, Canada 
2016 -

"From Bits to Atoms", Residence/SF, San Francisco, United States
2016 -

"From Bits to Atoms", San Francisco Art Institute, San Francisco, United States
2015 -

"Morphogenesis v.01" SFAI Concentrate Festival, San Francisco, United States
2015 -

"e:merge v.02", Plugin New Media Section, Contemporary Istanbul, Turkey 
2015 -

"e:merge v.02", Wavelengths, Europalia Turkey, Brussels, Belgium 
2015 -

"Sim/Nebula", w/ The Macula & Czech Philharmonic Orchestra, Prague, Czech Republic
2015 -

"Solenoid", w/ Ouchhh, IX Immersion Experience Symposium, Montreal, Canada
2015 -

"Solenoid", w/ Ouchhh, Elektra 16, Montreal, Canada
2015 -

"Unfold 01", Prizma Group Show, Prizma Space, Istanbul, Turkey
2014 -

"e:merge", Signal Light Festival, Prague, Czech Republic
2012 -

"Epiphaneia", International Digital Arts Biennial, Montreal, Canada
2012 -

"Legorreta Alive", SantaFe Art and Design University, New Mexico, United States 
2012 -

''VIII. Circuit'', International Contemporary Art Fair, Budapest, Hungary
2011 - "

Track 10", ÇSM, santralistanbul, Istanbul, Turkey
2011 -

"Shadow Lab", Köln International School of Design, Köln, Germany
2010 -

"Track 09", ÇSM, santralistanbul, Istanbul, Turkey